8 overlooked spaces you should decorate
By emily.bailey
Looking for new ideas for decorating your home? Try adding decor to these 8 overlooked spaces.
Looking for a few ideas to add a unique twist to your decor? Try adding details to a few unexpected places. Here are eight ideas for making the most of the overlooked spaces in your home.
1. Interior doors
The doors in your home are often the most overlooked blank canvas. Use them to add a pop of color or tie an entire room together with a new knob or lever. Check out some of our favorite ideas for using your doors as decor here.
2. Window sill
Do you have a wide window sill? This is a great place to decorate with accessories or small plants for an extra expression of style.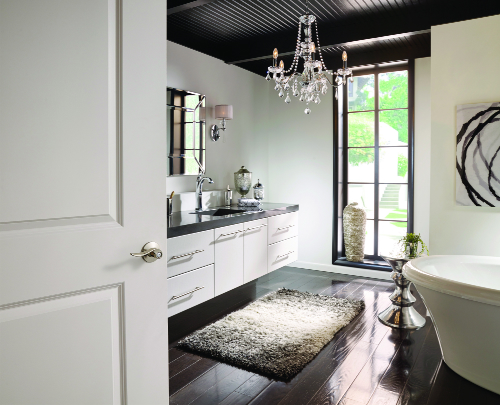 3. Cabinets
If you'd like to add a touch of style to your kitchen but counter space is limited, try utilizing the space between the top of your cabinets and the ceiling. This will let you display some of your favorite pieces while limiting clutter below.
4. Above the toilet
The top of your toilet is also a great place to utilize some unused space. Use it for necessities like extra toiletries but also add a touch of your personal style through fresh cut flowers or your favorite accessory.
5. Unused fireplace
Whether you have a fireplace that is never used or just cleaned it out for the warm summer months, there's no reason to leave your fireplace empty in the off season. From candles to books and other decor, there are many ideas for using this space to make a style statement.
6. Across the windows
If you don't have wide enough window sills and would like to display fresh cut flowers or plants where they will receive the most sunlight, try hanging vases or jars across the window instead.
7. Behind the couch
If you have a couch along a wall, why not use that empty space you've left between the couch and wall to prevent damage? Always Never Done creates a sofa table wide enough for extra decor for just $20.
8. Above the washer and dryer
You can also leverage empty space above your washer or dryer. Add a little shelf for extra storage or just to make the laundry room feel a little more homey. See how Country Girl Home does just that for less than $10.