Add a Touch of Modern Flair with a Simple Door Hardware Upgrade
By radhika.belkhede
Tuesday, February 23, 2016
We're introducing the Collins trim which complements a variety of door hardware styles – from contemporary to traditional – to add a modern touch.
Whether your home decor tastes fall more on the traditional or contemporary side of design, geometric patterns and squares have become a popular way to add a modern touch to a home's decor. This is especially true in the lighting and furniture industries where square trims are often found with scroll-inspired lighting fixtures in place of more traditional ovals. To help you complete your next home decor project with the perfect finishing touch, we're introducing the
Collins trim
.
The Collins trim stems from Northern Europe where styles like
Bauhaus
and minimalism flourished, giving it a modern, international flair. It's known for its ability to soften a room and serves as a good backdrop for more complex modern levers.

A uniquely modern touch in any home, the Collins trim embodies refined elegance, with a square influence that helps modernize a range of styles—from traditional to contemporary. Itcoordinates stunningly with rooms that incorporate cubic shapes, streamlined design, and industrial lighting. And since many new faucets and fixtures come with square back trims, it's the perfect finishing touch to lighting or plumbing projects.
See how the Collins deadbolt (left) and Collins with Northbrook lever combo (right) pair perfectly with both the contemporary and transitional settings below. Both rooms feature clean lines and have a sort of minimalist appeal that makes this trim work so well.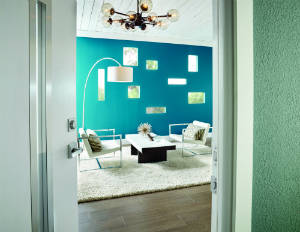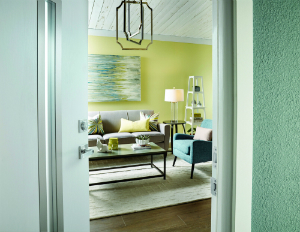 The Collins trim pairs with a wide variety of styles, making it a great choice for homeowners that are still defining their taste in decor. It also makes a great finishing touch to a project, as it won't clash with existing hardware elsewhere in the home.
Take a look at two very unique styles below. When paired with the Latitude lever (left), the Collins trim takes on a modern style. However, when paired with the Accent lever (right), Collins can look undeniably transitional.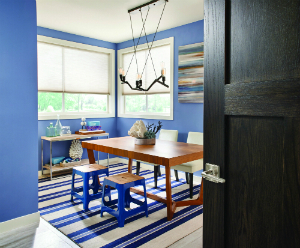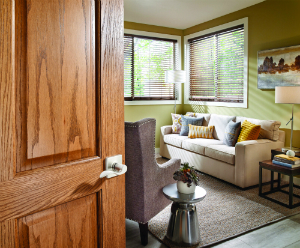 For more information on the Collins design and details on where to buy, visit schlage.com.