7 Easy Ways to Start Building Your Smart Home
By admin
Wednesday, November 4, 2015
There's no reason to spend thousands of dollars just to outfit your smart home. Here are 7 products you can use to get started for $300 or less.
If you think you need to spend at least $1,000 to get started with Smart Home devices, you could be doing it wrong. There's no reason to buy a top of the line, fully-integrated home automation system that will leave you overwhelmed and broke. Instead, focus on the items you already use each day and slowly make the right upgrades to add greater convenience and efficiency to your day-to-day life.
Here are seven items you should focus on first that typically cost $300 or less.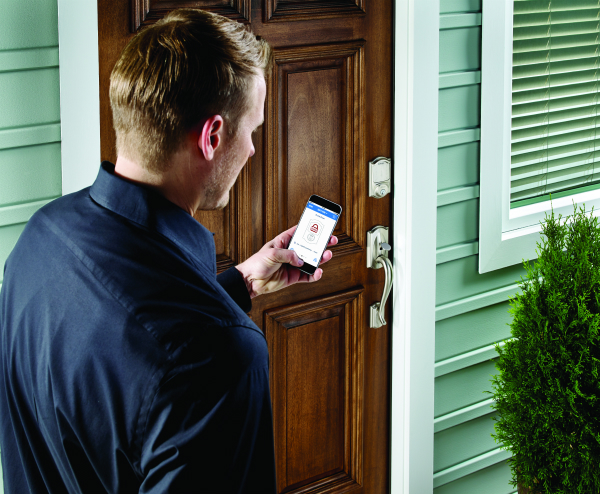 It's never a good feeling when you leave home for the day and can't remember whether you locked your front door. Smart locks can provide both peace of mind and convenience.
Get started with a lock like our Bluetooth®-enabled Schlage Sense™ smart deadbolt* that allows you to talk to unlock using voice commands with Siri® or enter a custom 4-8 digit PIN to gain access without a key. When paired with an AppleTV®, you can also gain remote capabilities. This allows you to check in to see whether your home is locked and safe no matter where you are in the world. Learn more about the conveniences of going keyless with connected locks.
It's nothing new to be able to set a custom set of temperatures on your thermostat but not everyone has the same schedule every day of the week. With a smart thermostat, you can easily adjust the settings in your home from an app on your phone. This will help ensure you're always saving money and energy when you can. Some devices will even use your daily habits to learn on its own to adjust based on the patterns you've shown.
Imagine a room where the lights automatically adjust based on the amount of natural light shining in or flashing a specific color to alert you when a family member is calling your phone. Gone are the days of crawling out off your warm, cozy bed to make sure all the lights are out. Just pull up the designated app and turn your lights off without ever getting up. The features are simple but the convenience is hard to refuse and energy savings can quickly add up.
A wide open garage door is often viewed as a welcoming invitation to thieves and unwelcome guests. With a smart garage system, you can check in on your garage door via a mobile app. In the unfortunate event that you did forget to close the door, simply command the door to close right there in your app without turning back to head home.
The options are nearly endless with smart appliances so it helps to think about the items you use the most and whether the conveniences of those appliances working smarter are worth the extra investment. From smart refrigerators that alert you when certain products are going bad to coffee makers that automatically start brewing before you crawl out of bed, there's a smart home appliance that will fit your needs.
There's no reason to be worried about whether the kids made it home safely or your home is safe and sound while you're away. Connected cameras allow you to peak in on what's happening at your home whether you're at the office or halfway around the world.
You don't have to purchase all new products and appliances to enjoy the benefits of smart home connectivity. With products like the iDevices Switch, you can take any ordinary product, plug-it in and watch it transform into a connected device enabled by HomeKit™ and Wi-Fi®.
Tell us, what other smart home devices are on your wishlist that make you day-to-day easier?
*The Schlage Sense™ lock should be within 40 feet of an Apple TV® for remote capability and uses Bluetooth® Smart technology to communicate with your iPhone®.