Home Security Check: 8 Steps You Should Take
By admin
Thursday, October 8, 2015
Maintaining a safe and secure home requires some due diligence by the homeowner. Here are 8 steps you can take this weekend to improve home security.
Taking the time to survey your home at least once a year for home security vulnerabilities is a habit that all home owners should adopt. Take some time to ensure all locks, lights and sensors are working properly before an intruder takes advantage of an opportunity. Here are eight steps you can take this weekend to make sure your home is safe and secure.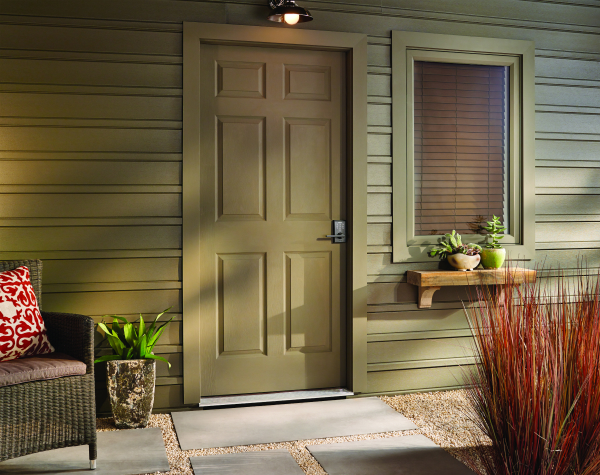 1. Check the grade of your deadbolt.
When shopping for a new deadbolt, it's important to consider the security grade. The American National Standards Institute (ANSI) is responsible for developing and maintaining performance standards of builder hardware and assigns a product grade to reflect the quality and durability of that product. For deadbolt locks, the ANSI assigns one of three security grade levels - Grade 1, Grade 2, or Grade 3. Grade 1 is the highest security grade that can be given for optimal security, so it's important to look for locks with a Grade 1 rating.
For more information on door hardware grades and where you can find Grade 1 locks, check out our guide to security grades.
2. Add more garage security.
Your garage is one of the most vulnerable entry points for would-be intruders. It's simply too easy to forget to close the garage door while rushing off to work or to lock the interior door that accesses your home.
To give yourself more control, consider adding a smart garage door opener that will allow you to check in via your mobile device to confirm your garage door is closed or to command it to close. Take your garage security up another notch by adding a keyless lock to the interior entry door. You won't have to worry about forgetting the key or getting locked out as you'll just need a 4-digit PIN to unlock the door.
3. Install a monitored security system.
A great way to keep your home secure and notified of a security breach is to install a monitored security system. Monitored security systems often include motion sensors and entry detectors as well as 24/7 surveillance for a monthly fee. You can also opt to avoid a monthly fee by choosing a system that allows you to monitor your home on your own remotely.
4. Move your spare key or opt for a keyless option.
It's good practice to move the location of your spare key from time to time. If you've used the same spot for several years, you run the risk of someone noticing when you retrieve your key and obtaining easy access to your home.
If you want to take your security up another notch, try getting rid of the spare key altogether and install a keyless electronic lock. We offer a variety of keyless lock options that allow you to have full control in the way you gain access to your home whether it be through a PIN number you set up or even through an app in your phone.
5. Add more deterrents with built-in alarm technology.
If you decide that a keyless lock is right for you, consider choosing a lock option that features built-in alarm technology. Both our
Schlage ConnectTM
and
Schlage SenseTM Smart Deadbolt
come with a built-in alarm that can be programmed to fit your needs. Built-in alarms in keyless locks can help deter criminals before a breach occurs. Program your alarm to sound any time a significant amount of force is applied to your door or set it to activity mode to hear it beep whenever your door opens.
After several months of opening your windows to allow a fresh breeze flow through your home, it can be easy to forget to lock those windows back up for the fall and winter. Take some time this weekend to double check that all your window locks are securely fastened.
7. Install motion sensor lighting.
If there's one thing a potential intruder does not like, it's having attention drawn to them and the easiest way to do that is with motion sensor lighting. Unless you want to leave your front porch or back door light on 24/7, motion sensors are easy to install and great for energy efficiency.
8. Change your batteries.
Finally, when you conduct your home security sweep, get in the habit of changing the locks on your smoke detectors, keyless locks, and motion sensors too. These devices often use very little power so it's unlikely you would use the full life of your batteries in a year's time but it's always best to play it on the safe side and make sure all low battery warnings are functioning properly.
What security tips do you tend to abide by when it comes to increasing the security of your home? Comment below to let us know!