5 Common Household Items That Could Work a Lot Smarter
By admin
Building a smart home is not as complicated as you might think. Here are 5 common household items you can get started with.
Turning your home into a smart home is no longer a complicated, expensive endeavor meant only for the most technologically savvy. With advancement in technology and a focus on daily convenience, even the most common household items can work smarter and make your life easier. Here are five items you likely already have that will quickly turn your ordinary home into a smart home.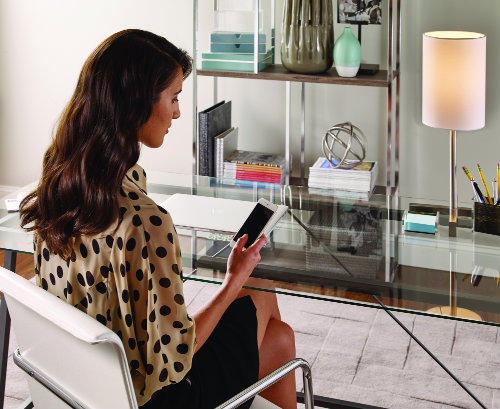 It's already a common feature to set your thermostat to change temperatures based on your schedule, but unless you work a strict 9-5 job five days a week, those settings can be pretty limiting. With a smart thermostat, you can control the climate in your home remotely and allow your thermostat to learn your daily habits so it adjusts automatically. You can also monitor how much you're spending on heating and cooling that month and make adjustments to increase efficiency and help you save money.
It's probably obvious that smart lighting can help you increase the energy efficiency just like with the smart thermostat. Smart lighting systems can be set on schedules or make adjustments on their own based on the amount of available light in the room.
Smart lighting can also add convenience to your daily life. Did you forget to turn a light off downstairs when you went to bed? Pull the designated app up on your phone to shut it off. You can even set up smart lighting to sync with notifications on your phone. Is your wife calling while you're in the middle of watching the big game? Set your lights to flash a designated color so you never miss a message.
3. Smart home surveillance systems.
Smart home surveillance systems are all about peace-of-mind while you're away. Never worry about whether the dog is getting into the trash can or someone is trying to gain access while you're away on vacation. Install a connected camera that allows you to check in and see that everything is as it should be when you're away.
Keyless smart door locks are all about convenience and security. When you install a Schlage ConnectTM or Schlage SenseTM Smart Deadbolt and connect it to a compatible home automation hub*, you can receive alerts when your kids make it home from school or check in on whether you locked the door on your way to work and command it to lock without turning around. You can even connect your smart lock with compatible smart lighting to set your lights to turn on as soon as you unlock your door.
Be sure to check out our full list of keyless lock benefits.
Forgetting to shut your garage door when you leave is often viewed as an invitation for burglars to enter your home. Just like with smart door lock technology, you can always check in to make sure your garage door is shut no matter where you are when you install a smart garage door opener. Simply press a button in your garage door app to command it to close in the unfortunate event that you do forget.
Do you have any smart home technology in your home? Comment below to let us know what you use and your favorite feature.
*The Schlage ConnectTM uses Z-wave technology to communicate with compatibile home automation hubs. The Schlage SenseTM lock should be within 40 feet of an Apple TV® for remote capability and uses Bluetooth® Smart technology to communicate with your iPhone.