3 Reasons You Should Consider a Keyless Deadbolt Lock
By admin
Wednesday, October 21, 2015
Looking for new features to enhance your lifestyle and add a touch of style? Here are 3 reasons you should consider a keyless electronic deadbolt.
Mechanical deadbolts have been in use for almost a century. They were invented to create additional security beyond the standard door lock which became too easy for burglars to breach. The deadbolt has come a long way since it was first created with no shortage of options to suit a homeowner's personal design choices and lifestyle. Here are three reasons you should consider a keyless, electronic deadbolt.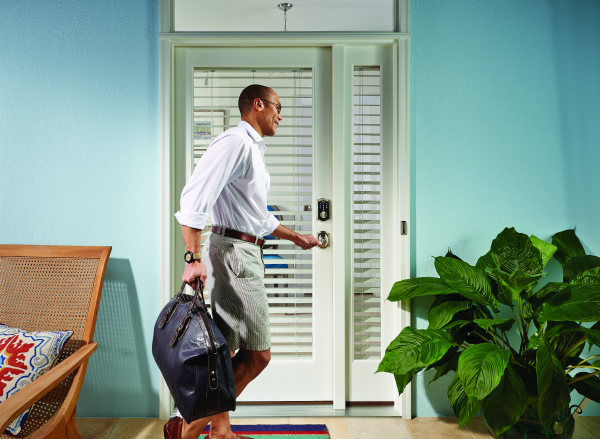 1. Enhance your lifestyle.
One story almost every member of your family or friend can relate to is being locked out of the house, and usually at the most inconvenient times. Keyless electronic locks allow you to forget about that pesky key and never worry about getting locked out again.
Each of our keyless options feature a keypad or touchscreen that requires a unique 4-8 digit PIN that you define to unlock the door. They're each powered by batteries so there's no reason to worry about the power going out and feature a backup access option in the unlikely event your batteries go dead before you have a chance to replace them. Check out our full list of common worries you can kiss goodbye when you go keyless here.
Keyless convenience is certainly the biggest reason to go keyless but our variety of electronic deadbolts have a variety of features that go way beyond locking and unlocking. Both the
Schlage Connect™
and
Schlage Sense™ Smart Deadbolt
feature built-in alarm technology for added security should a potential intruder apply any sort of pressure to your door. Add remote capabilities to either lock with a compatible home automation hub that will allow you to check in on whether your door is locked or unlocked while your away or set up alerts to be notified when your kids arrive home safely from school.
3. Add a touch of style & fun.
If you opt for a connected keyless lock, the benefits don't stop at security and convenience. With the right home automation ecosystem and plenty of choices for style and finish, you can connect your lock to an experience that is sure to impress all your guests. Create a scene with your connected lights and stereo to kick on as soon as you unlock your door. You can even set your lights to change colors.
Are you already enjoying a keyless lifestyle? Share your favorite feature or benefit with us below!