Upgrading Your Front Entry on a Budget
By admin
This blog features Schlage employees who are passionate about the products and services they support.
When was the last time you did an audit of your front entry from the viewpoint of a visitor? Never? You might be surprised what you see when you take a walk up to your entry way through someone else's eyes. Front entries, though often one of the most important "rooms" in a home, get neglected and passed over when it comes to home remodeling projects and upgrades.
Houzz recommends to, "step outside, stand in front of your entry and study it as if you were a visitor. You may be surprised at what needs tweaking — a lackluster sconce, crumbling mortar on brick steps or a drab door that blends into the surrounding walls. If your porch, stoop, door and other elements could use a little oomph, try
these budget-friendly pointers
and finds to bring them to life."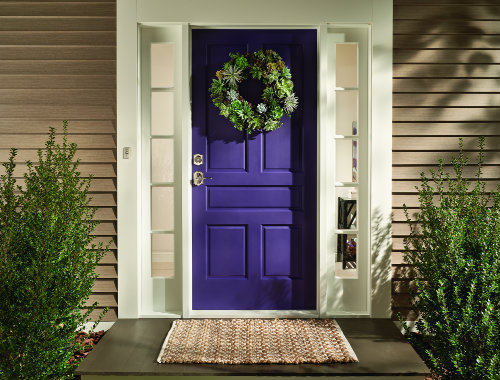 1. Swap out your light fixture. It's amazing how such a simple change can completely transform the look of an entry. Even if the replacement light you choose doesn't hew strictly to the style of your home, make sure it's similar enough not to feel out of place.
2. Add a dab of living color. Few things freshen a porch or stoop faster than potted plants, whether they're topiaries flanking the door or vines cascading from a hanging basket. If the design of your porch allows, consider a climbing specimen that will entwine around posts and railings. If not, choose a stylish container or two.
3. Spark the front door with a bold color. It's a prime opportunity to create a visual focal point and amp up the personality of your home's facade without spending a lot of cash. Choose a color that both sets off and contrasts with your main exterior hue — this turquoise looks lovely against the muted pumpkin orange frame and gold siding.
4. Roll out a rug. A new welcome mat or floor covering can pull a porch together. The indoor-outdoor versions on the market these days come in so many stylish patterns and materials that it's easy to choose one that sets the tone for your interior decor.
To see the full list of front entry upgrades, visit
Houzz.com
.