Boost electronic lock security with effective keyless codes
By emily.bailey
Thursday, January 29, 2015
The same precautions you take to choose a secure PIN should be taken with keyless lock user codes. Here are a few examples to help you choose wisely.
When it comes to choosing the most secure codes, it helps to rely on a little creativity. The same precautions you take to choose a secure PIN should be taken with your keyless lock. After all, your home is just as valuable as your bank account - if not more. Below are a few tricks to keep in mind when choosing your user codes to ensure your keyless electronic lock does the job it was meant for.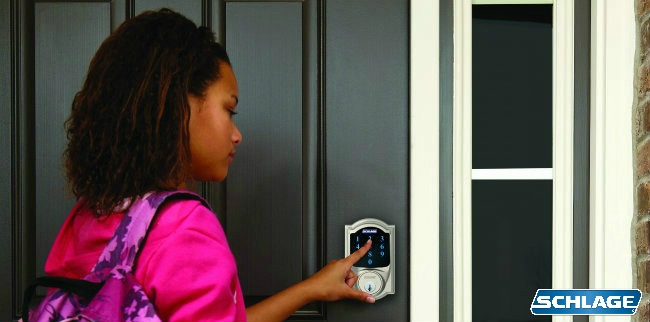 Keeping track of user codes
Because many keyless electronic locks allow you to store multiple user codes, you're going to need a reliable way to keep track of which code belongs to whom. This will prevent a major headache when it comes time to change those codes. Each of our
keyless locks
comes with a handy sheet to help keep your user codes organized; however, there are several additional steps you should take to ensure those codes remain safe. If you choose to write down your codes, make sure you hide the master list where a nosy guest or service personnel is not likely to find it - just like you would hide spare key to your house.
There are several free online tools, like
Evernote
, you can use to take notes. Those notes can then be accessed securely from any computer or smartphone when you log in to your account. Keep in mind, you'll want to be creative in how you list these codes so savvy hackers are not aware of what they refer to. See below for a few ideas.
Some consumers hide their bank card PIN in their phone directory. The same can be done for your keyless lock user codes. For example, you could create an entry for your housekeeper and hide the housekeeper's code within what looks to be a phone number. For example, if the user code is
0649
, you could list the phone number as (525) 4
06-49
21. Just make sure your phone is passcode protected for even more security in case of loss or theft.
If the option is available, longer codes are always better. It simply comes down to mathematics. The more numbers you use, the harder it becomes to figure out the right combination. Our
Schlage Connect
allows you to create codes that are up to 8-digits long, if you prefer. (It's also equipped with a fingerprint-resistant touchscreen for even more peace of mind.) The video below shows you how:
Avoid using the same digit twice
A best practice to keep in mind when choosing your user code is to avoid sequences - ex. 1234 - and duplicate numbers. This follows the same line of logic used when it comes to choosing longer codes. The more numbers you use, the less likely it is that someone could "guess" your user code and gain unwelcome access.
At the end of the day, the most secure place you can store your user code is in your mind. An easy way to do this is by giving the numbers a significant meaning. They might represent an important date or word. For example, you could choose a loved one's graduation date or someone's anniversary that you're likely to remember. If that date is 06/25/1979, take a random selection from that date, like 0679. Giving your code a meaning will help you and other members of your household - like your spouse or children - easily remember.
Keep these tips and tricks in mind the next time you change your user codes. You'll be glad you took the extra steps to stay organized and secure. And if you just want to write things down the old fashioned way, here's a free printable code tracker to use as you please.
What tricks or tools do you use to remember important numbers? Comment below to let us know!