Are Keyless Electronic Locks Right For You?
By admin
Tuesday, January 13, 2015
This article will explain the pros and cons you should be looking for in a keyless electronic lock before you make the decision to buy.
Imagine a world where you can leave your home for a run and never worry about hiding a key where - hopefully - no one will see. Or imagine never locking yourself out of the house or worrying that you might lose a spare.
That's the world many keyless lock owners live in. Here at Schlage, we offer a variety of keyless electronic locks that are sure to fit your lifestyle; however, like all new purchases, there are some common concerns you should address first.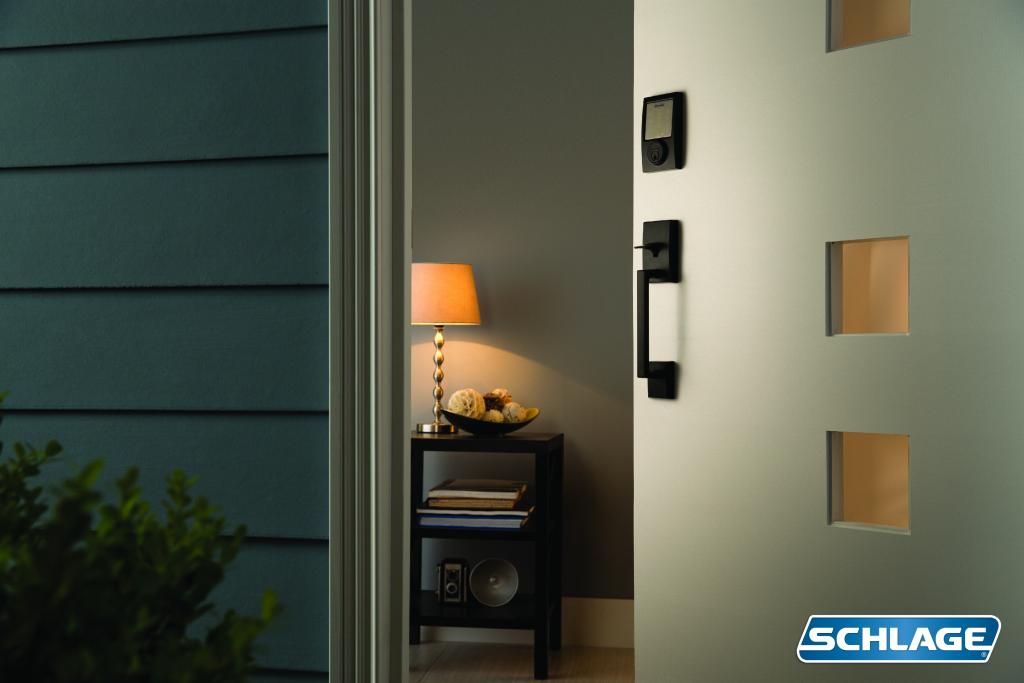 "If I use a keypad lock, won't people be able to tell which numbers are in my pass code from fingerprints or wear and tear?"

When comparing different products, this is definitely a detail you'll want to ask the lock makers about. The point of keyless electronic entry is to make your home more secure, not vulnerable. Our
keypad deadbolts
are both finger-print resistant and won't rub away with continued use. Our touchscreen locks will even work in the rain or when you have gloves on.
"What if the battery dies while I'm away on a long trip? I'll have no access to my home."

In the event that your battery may fail, you'll want to be sure your keyless lock has a back-up option for unlocking your home. Our
Schlage ConnectTM
has a manual key entry that serves as a backup should your batteries fail or if you forget your keycode. We recommend changing your batteries each year when you change the batteries on your smoke detector. This will ensure that your product continues to operate properly.
"If I share my code with a housekeeper or other service personnel, they can just share that code with others that are then able to freely access my home."

If you plan to share your code with service personnel or any others that you may not know well, you'll want to choose a product that allows you to assign individual codes for different people so you do not have to share your master code.
Schlage TouchTM
allows you to have up to 19 different key codes at one time and Schlage Connect stores up to 30 different key codes. We recommend changing your key codes for service personnel immediately after they have been used. This will ensure your home's entry remains secure.
"Electronic locks are much more expensive to repair or replace than spare keys or mechanical deadbolts if something breaks."

You should always be prepared to tackle a situation where your product may fail. Make sure you research whether or not there is a warranty attached to your product. We back every product here at Schlage with a generous warranty. For more details on what our warranty covers for our keyless electronic locks, be sure to view each product's user guide on our
website
.
"I've heard that digital locks are much easier to pry open than mechanical locks."

Before choosing a keyless lock, you'll want to be familiar with the different security functions and grades. For exterior doors, you'll want to choose a lock that includes a Grade 1 deadbolt security grade. That is the highest and strongest security grade you can achieve. Visit our site for more information on functions and grades here. All of our electronic locks are equipped with a strong, motorized deadbolt and an anti-pick shield to give you the same durability that old mechanical locks provide.
Like all major purchases, extensive research is vital to making sure you pick the best product for you and your lifestyle. Understanding all the pros and cons will help you make the right purchase that will last for many years and give you peace of mind. Are you ready to join the keyless era?