Building a new home can be quite a process, filled with paying close attention to big and small details.
Are you thinking of building a new home or in the process of working with a builder to create the sweet house you always dreamed of having? Building a new home can be quite a process, filled with paying close attention to big and small details. The options are often times endless, and in many cases it can be a rather stressful situation. We want to help shed a little light on the door hardware selection process and hopefully make it a little easier for you to find something that looks great, complements your new home's style and most importantly keeps your family protected and feeling secure.
We pulled our top hardware selection tips from our website and brought them to you here!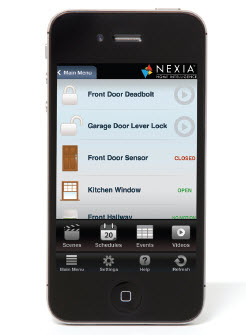 You've invested a lot into your new home – but protecting your family is the most important investment you'll make. Our high security deadbolts are your first line of defense. While Nexia™ Home Intelligence puts your home in the palm of your hand with remote access that keeps your family safe and your home secure. When it comes to the security of your new home, whether it's a keyless door lock, an impression-making handleset or easy home automation security there's a Schlage for you.
Schlage makes decisions easier with a range of design and finish options that perfectly complement your new home's style.
For finishes, you will want to look to our door locks with a satin nickel finish when designing your modern, stainless steel kitchen. Or consider Schlage's aged bronze finish knobs for interior bedroom doors that need a more traditional feel.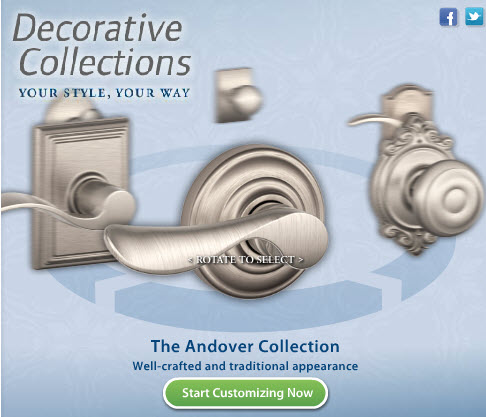 Part of the beauty of building your own home is that you get to bring your unique sense of style to the space. Our new Decorative Collections hardware line allows you to truly customize your decorative door knobs and levers at an affordable price without sacrificing highest quality of residential security. Because, let's face it - if it doesn't keep the bad guys out, then it doesn't really matter how pretty or fashionable your lock is.
Schlage's products not only make a great first impression at the front door, but also feature the lasting beauty of Schlage's Finish Warranty. Schlage has built a legacy of providing the highest level of security to homes and businesses. Install a Schlage, and you install nearly a century of total dedication to security, quality and innovation.
Feel free to drop by our Schlage Facebook page and tell us about the home your building or let us know if you have any questions we can help answer for you!
Laura W.
Social Media Brand Marketing