So you think door hardware is only made to be put on doors? Think again, friends. Door hardware is making a presence in the most unique ways these days. Not only is it decorative coming in various shapes, sizes and styles, it's highly versatile and often times incredibly functional as well.
The best part about using door hardware for various creative projects is that you often times don't need to buy anything new. You can use old, broken or dated hardware you have laying around your (or a willing friend's) garage. Or better yet, use your projects as an opportunity to replace and upgrade some of the old hardware in your home. Think of it as a win-win -- add a little value to your home with the new upgraded hardware and compile a collection of matching door hardware that is at your creative disposal.
Now that you have all this great hardware to work with, here are a few project ideas to get your creative juices flowing.
Accent Garage Doors with Traditional Door Hardware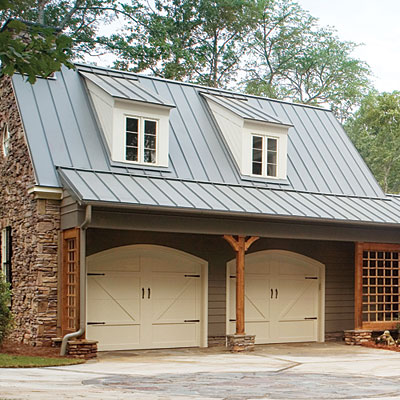 Southern Living transforms everyday garage doors with Schlage door handlesetsto create a charming and stylish welcome for all who enter your driveway.
You'll notice that the handlesets pop off the garage door with the use of contrasting colors. For light colored garage doors, use a darker hardware finish like a Matte Black or Aged Bronze. For darker doors, use lighter hardware like Satin Nickel or Bright Chrome.
Want to see all the garage makeovers? Read more here.
Fill Apothecary Jars with Interesting Door Knobs
This idea came from Suzanne Duda. She reminds us that sometimes some of the most visually interesting pieces are often times very simple -- like a collection of unexpected items (door knobs) in a glass jar. It feels both eclectic and whimsical.
If you do not have a collection of unique door knobs, you can always spray paint the ones you do have in contrasting or coordinating colors for a striking visual effect. A jar of brightly painted knobs and levers would look just as interesting as a collection of vintage pieces.
Create a Jewelry Organizer from Old Hardware
We all know how annoying it can be to try and organize all of our accessories. With different shapes and sizes it can be a challenge at times.Well this challenge has been accepted! Liz Marie Blog shows you how to take old unused hardware and put it to good use in the form of an artful jewelry organizer.
The great thing about this project is that you can use ALL kinds of hardware. Don't limit yourself to just one type. Consider using door knobs, drawer pulls, door knockers, hooks, levers, etc. And if you feel that all your pieces look too similar (or not similar enough) try spray-painting them in contrasting or coordinating colors depending on the type of look you're trying to achieve. Painting the hardware in different shades of the same color would make a statement while looking very buttoned up in a monochromatic way.
So whether you're looking for an excuse to upgrade your home's hardware or just looking for some inspiration on how to use that old worn-out hardware, the important thing to remember is to think outside the door! How do you use your old door hardware? We'd love to hear your ideas and see pictures!
Don't forget to follow us on Pinterest and Facebook for more upcycled hardware ideas!
Laura W.
Social Media Brand Marketing