It's never been easier or more affordable to build your own smart home but the wealth of options can also be a little overwhelming. Consider these 6 qualities before investing in a smart lock.
With recent advancements in smart home technology and many brands entering the industry, it's never been easier or more affordable to outfit your home with smart technology. By focusing on a few aspects of your home that could benefit from a little more convenience and security, you'll be living like the Jetsons in no time. But with so many available options, the features can become a little overwhelming. Here are six things you need to know about smart locks before you decide to make the investment.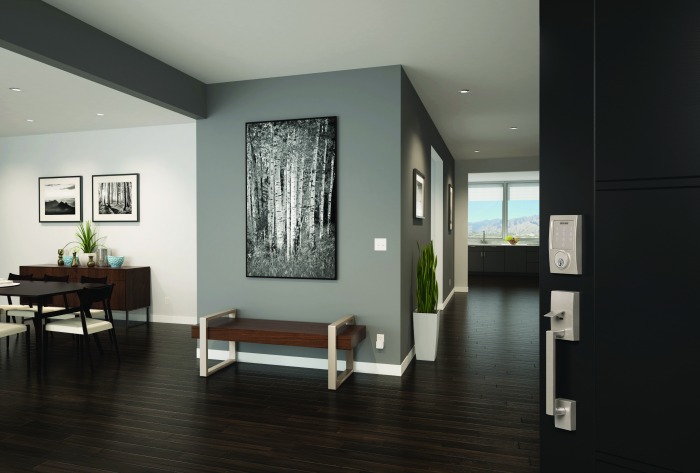 Ease of installation
Will you need to hire a locksmith to install your new lock or is it a quick and easy DIY project? Be sure to consider available installation manuals and videos before you choose a lock.
With the Schlage SenseTM Smart Deadbolt, installation is easy. Just follow along through the Schlage Sense app for step-by-step instructions. A screwdriver is the only tool you'll need to complete the installation in just a few minutes.
Ease of use
A smart lock that becomes confusing to use is going to add more frustration than convenience to your day-to-day. Make sure you understand all modes of access a smart lock allows and how to share access with a family member or service personnel. It may be too confusing for a friend to download an app to take advantage of keyless entry so you'll want a lock that gives you options.
Both the Schlage Sense lock and Schlage ConnectTM Touchscreen Deadbolt allow multiple modes of entry whether it's through an app on your phone, a 4-8 digit PIN or a manual key. Simply create a custom PIN for any guests that need access to your home. No confusing app instructions necessary!
Proven track record for strength and security
At the end of the day, it's important that your smart lock stand the test of time when it comes to keeping your home safe and secure. While there are many smart locks on the market that have plenty of cool features to keep you connected, they fall short when it comes to strength and durability. Choosing a smart lock from a company that has a long history of producing quality deadbolts and locks will give you the peace of mind knowing that even if the wi-fi is out or your batteries fail, you'll still have a durable lock built to protect your home.
If you're unsure whether or not a lock passes the strength and durability test, look for locks that are backed by the BHMA certified secure home residential door hardware grade. At Schlage, we put our locks against rigorous testing, such as sledgehammer attacks, attempts to manually pull the lock from the door, and measures of durability that ensure smooth functionality after a lifetime of use. Both the Schlage Sense lock and Schlage Connect lock with built-in alarm received a grade of AAA from the BHMA - the highest rating you can receive in the categories of strength, durability and finish.
Available features
Take the time to learn all the available features for your smart lock. A great lock can do more than lock and unlock! With a Schlage smart lock, you can take advantage of extra features like built-in alarm technology that senses the slightest vibrations against the door and responds with an audible alarm and optional auto-lock technology that automatically locks the deadbolt behind you so you never have to worry about someone forgetting to lock the door again.
Battery life
Make sure you understand the type of batteries used to power your lock and the expected battery life. You don't want to end up with a lock that uses an obscure battery or needs to be changed every month. Schlage smart locks are powered by 4 double A batteries that only need to be changed once a year.
Smart device compatibility
Do you already have other smart devices installed in your home? You'll want to be sure you choose a smart lock that is compatible. Do you have a smart home hub powered by z-wave technology? Then you'll want to choose a z-wave lock, like the Schlage Connect lock. Are you interested in building a smart home within the Apple HomeKit Ecosystem? Then Schlage Sense is right for you.
Have specific questions about your smart lock's features or capabilities? Reach out to us on Twitter or Facebook for help!