Schlage and Amazon Alexa announce unlock capabilities. Here's what you need to know first.
Amazon Alexa users can now use the Alexa app to enable or disable new voice unlock functionality for their Schlage smart locks. This new functionality is an enhancement to Schlage and Amazon Alexa's current features, which include verbally locking or checking the status of the front door via Alexa-enabled devices. Here's what you need to know before getting started.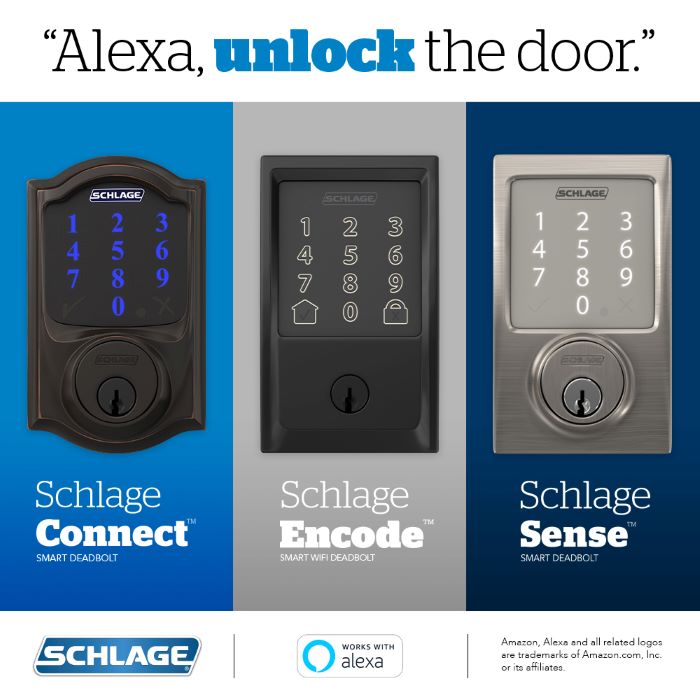 2. How does the new voice unlock feature for Amazon Alexa work?
The unlocking feature is disabled by default. Users must use the Amazon Alexa app to log in and enter their password to enable the feature first. Then they will be required to set a 4-digit PIN which must be spoken before Alexa will unlock the door. When the user says "Alexa, unlock the front door," Alexa will ask for the PIN. If the PIN is correct, Alexa will unlock the door. After 3 attempts to unlock the door with an incorrect PIN, Alexa will disable the unlock feature and the door will remain locked. Users can re-enable the feature by logging into the Amazon Alexa app and repeating the process.
3. You said you were not including voice unlock functionality because of your commitment to security. What has changed?
At the time of the initial integration, Amazon Alexa had no method in place of authenticating the user's identity when using a voice unlock command. Now that Alexa requires users to enter their password to enable the unlocking function initially within the app, as well as speak a 4-digit PIN before Alexa will unlock the door, it is possible to offer the voice unlock function with proper security in place.
4. What should I do if my spoken PIN is compromised?
Log into the Amazon Alexa app to change your PIN as needed. We recommend changing your PIN at regular intervals just as you would a computer password.
5. What technology do I need to connect my lock with Amazon Alexa and allow for the new voice unlock feature?
Samsung SmartThings and Wink will enable this functionality with the Schlage Connect Touchscreen Deadbolt. The Schlage Sense Wi-Fi Adapter will enable this functionality for the Schlage Sense Smart Deadbolt.
6. Can the unlock feature be used with Amazon Alexa smart home routines?
Currently, there is no plan to support routines for operations that affect the security of your home (unlock, disarm, open.)
7. In which countries will the Amazon Alexa voice unlock feature be enabled?
This functionality is currently launching in the United States only.
Ready to outfit your home with one of Schlage's smartest locks yet? Visit
schlage.com
to learn more and where to buy. If you have any questions as you set up your new smart home tech, reach out to us on
Facebook
or
Twitter
for help.