Managing home security and protecting one's personal property – and personal space – is an important consideration for a prospective home host.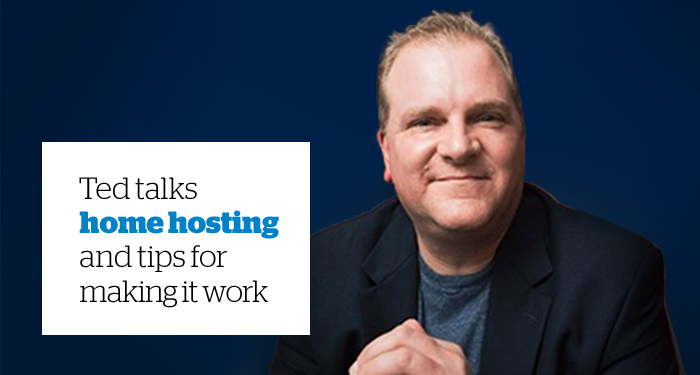 Technology has been a big driver behind the 26% year-over-year growth of the home-hosting industry in the US. App-driven technologies from platforms like Airbnb are powering this segment of the gig economy. Smart-home technologies are giving hosts control over home automation, management and security. And projected industry revenue of nearly $170 billion is attracting more potential hosts to the category than ever before. According to the 2017 Global Hotel Trends Report published by Tourico, more new hosting properties have been added than new hotel beds in the last year.
Managing home security and protecting one's personal property – and personal space – is an important consideration for a prospective home host. Ted Roberts, the Style and Design Chief at Allegion, shares some insights into the home hosting phenomenon and Schlage's role in providing door hardware like the Schlage Sense™ Smart Deadbolt and Schlage Connect™ Smart Deadbolt. These technologies make security management convenient, affordable and smart.
Q. What are the key factors propelling the home-hosting phenomenon?
A. "Like so much in our changing culture, a lot is built upon rapidly evolving technologies. From a security standpoint, we're talking an evolution of such things as security cameras, changeable lock codes, programmable security systems – a lot of which can be easily and securely controlled from your smart phone. So much of this simply couldn't have happened before the technology caught up with the need. All the more important since the category has evolved to be so focused on personal fulfillment and satisfaction.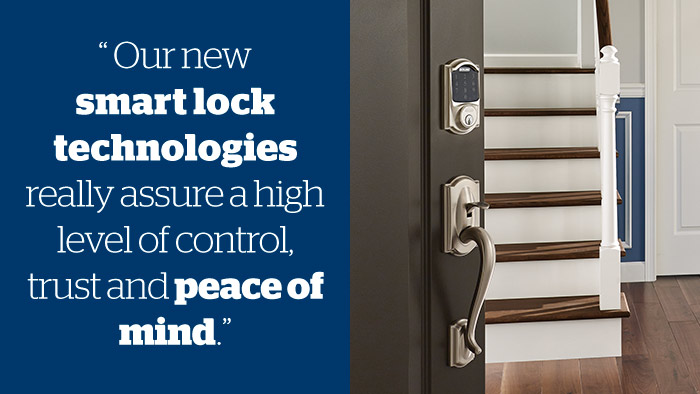 "We're not just talking about renting a room. Hosts are sharing their homes and belongings, sharing meals, socializing with their guests and sharing themselves in ways we've never seen before. Our new
smart lock
technologies really assure a high level of control, trust and peace of mind."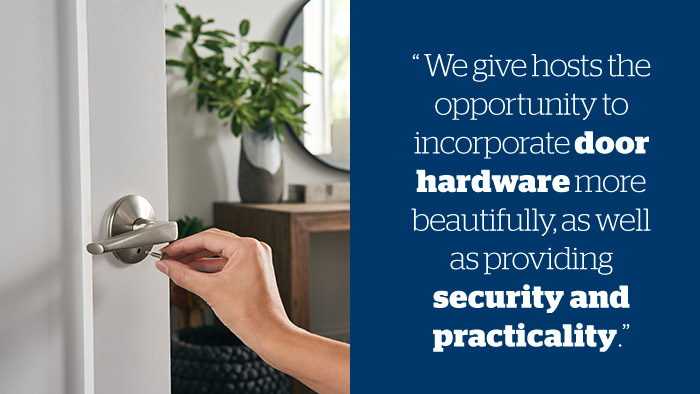 Q. What are some general security tips you can provide a prospective host?
A. "Hosts need to think of their homes both holistically, in terms of overall security, but also in sectors. You're bringing people into your home. First and foremost is general house access, and a programmable electronic lock or a smart lock are ideal for exterior doors. Think of this simply as providing the convenience of an easily changeable and assignable code versus providing a key. With smart locks, you're providing the added benefits of managing home access using your smartphone.
For adapting interior doors to your specific needs, there's Schlage Custom™ which facilitates a custom designer look, while adding the flexibility of switching a non-locking door to one that locks in a matter of seconds.
"You'll also want to think about access throughout the home. Are there areas that need to be secured – like a home office or utility closet or family area? Many of these rooms are ones you don't normally think about locking up. In a home-hosting situation, it's important to really think through how you would like manage your whole-home access." In cases such as these, a product designed for use on exterior doors, may also have an application inside.
Q. What about the specific advantages of Schlage door hardware?
A. "In addition to the benefits I've already outlined, something else to think about is aesthetics. With Schlage door hardware, hosts don't need to sacrifice style for convenience and performance. In much the same way our products add to the curb appeal of a home that's being sold, the style of Schlage products provides an appealing point of difference for host rental properties as well. We give hosts the opportunity to incorporate door hardware more beautifully, as well as providing security and practicality. What's going to make your house, your property and the experience you provide stand out? We see that as part of our job."
Q. How do I know if hosting is right for me?
A. "Are you a people person? As a host, you're not just giving people a place to sleep or renting a room. You're giving your time, your patience, your hospitality. Prepare to adjust to your guests' specific needs to provide the best possible experience. How flexible are you? What about your schedule? You'll want to be prepared for any eventuality, whether it be providing directions, lending your guests a bicycle or your car or something as mundane as having an extra toothbrush or some toothpaste handy. Don't forget, you're competing against hotels, so you'll want to be prepared to truly share of your home and of yourself. If that's you, then welcome to home hosting."
Q. How do I know if my house is right for hosting?
A. "So much depends on whether you'll be sharing your home while your guests are there or are planning to be away. But in general, the ideal host home will have extra bedrooms and bathrooms, it'll either be a private home or a dedicated apartment or condo and it'll be conveniently located near area attractions, transportation and etc. It'll have all the amenities a guest would look for in a hotel – from cable to internet to clean towels and bedding. Is there something unique about your residence – is it historic, famous or haunted? Is your home a place you'd want to know about if you were travelling elsewhere? If so, you've got yourself a great home hosting prospect."
Q. Any other general tips?
A. "Expect the unexpected. Really try to anticipate those things you may not have thought about. Are there any legal restrictions (Does your mortgage and insurance agreements allow you to host? Do you have the right kind of homeowner's insurance? Does your HOA or lease allow you to host?) These types of considerations are just the beginning. Are you prepared to have things break, be it appliances or personal items? What if a guest gets ill? Do you have any home safety concerns that could pose a liability? Finally, again, will your guests feel secure in your home? That's our focus, and it has been for almost 100 years. Make sure your guests know that and give them every reason to come back again or recommend you to friends and family."
If you're thinking about opening your home to guests, carefully weigh the pros and cons. Think it through from every angle. And
prepare yourself
and your home for the tremendous responsibility you're taking on, as well as for the tremendous opportunity. Take advantage of the latest smart home technologies to assure a great experience for you and your guests. And look to
Schlage
to provide the style, simplicity and security you'll need plus the peace of mind that can only come from a brand that's this experienced and trusted.